Precision engineering turned parts on a sub-contract basis.
Modern multi-axis CNC sliding head machines with sub-spindle and milling capability, with "lights out" production to reduce costs.
Microscopic parts (from less than 1mm diameter up to 20mm diameter maximum).
Wide range of stainless steel, ferrous, non-ferrous and plastic materials machined to order.
From small prototype batches up to high volume production runs.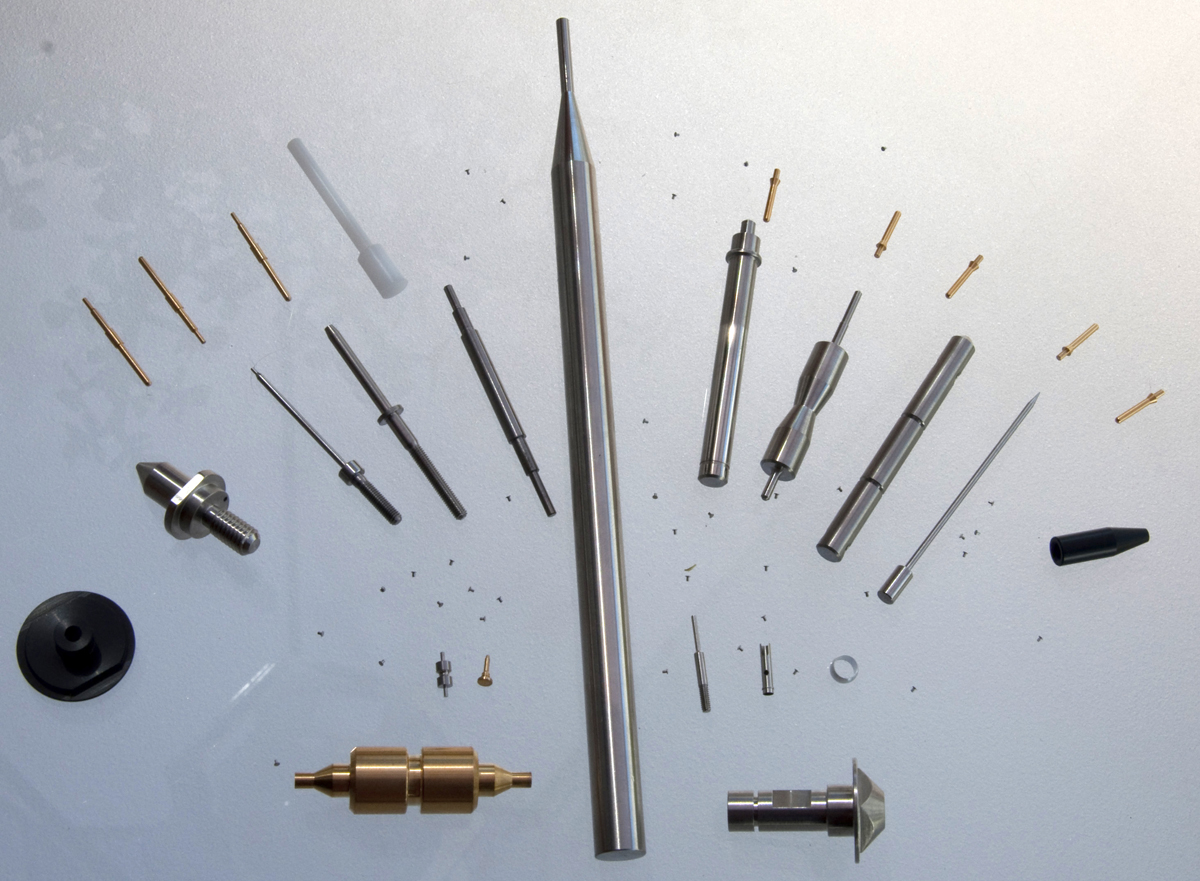 Machine Capability Chart
MACHINE
CAPACITY
DESCRIPTION
SUITABLE FOR
Star SR10J
Star SR-20R (x2)
Star SA-16
Star SB-16E
Star SV12
Star SA16-RC
10mm
20mm
16mm
16mm
12mm
16mm
All CNC Sliding Head Production Lathes with magazine bar feed & sub-spindle, Live cross-milling & drilling & tapping
JBS Autocompensation Guide Bush Systems have been fitted to the majority of our Star CNC Lathes. This clever device automatically compensates for variation in barstock diameter and allows us to use standard bar tolerances, even on aluminium and plastics, without the need for the bar to be precision ground prior to machining, saving time and expense
Prototype and high volume production runs.
Complex slender parts.
Mitutoyo
Shadowgraph
PJ300
Precision optical measuring device, complete with digital measurement

Measuring work pieces to
a very high standard

Meiji
Stereo Bench Magnifier
EMZ
Zoom Stereo Microscope


Quality Inspection Capabilities
Magnification 7x - 45x

Mantis Elite
Stereo Inspection Magnifier br>



Stereo Viewing System




Wide range of magnification options (to x20)
Long working distances; large depths of field
Shadow-free true colour LED illumination
Swift Video
Measuring System



2-axis video measuring systems, ideal for measuring 2-D features of small, intricate parts


Option of combined video and microscope measurement technologies
Colchester
Master Centre Lathe
6" x 24"

Manual Centre Lathe, with digital readout on 2 axis
1 off and small batches of turned parts
Bridgeport Mill (x2)
Table size
48" x 9"





Manual milling machine with
Digital Readout, variable
speeds


General milling, prototype components and toolmaking.
We also have a wide range of NAMAS calibrated and traceable gauges for component qualification throughout the manufacturing process.